If you've never entered a poetry slam, they can seem daunting. But here's the secret: they're really not. Yes, they're competitions where poets go head to head and the audience (or judges) vote for a winner in each heat, but if you think of them as open-mic events with an added twist you won't be far wrong. Slams vary slightly, depending who's running them, but wherever you are, the night always ends up with one poet being crowned the 'winner'. The important thing is, they're a lot of fun.
Want to take part? Good. Here's a few pointers to help you on your way.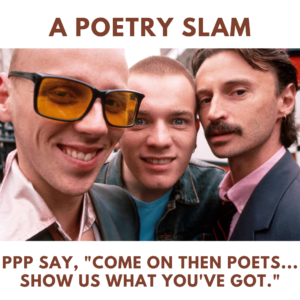 In a PPP slam, you get three minutes at the mic in each heat. If you get to the final you'll have been up to the mic three times. So think positive and have three sets ready! Remember it's a maximum three minutes in each round, but if your set is two minutes, that's fine. If you go over, however, Emma is ruthless with her timekeeping and you will lose points. Oh, and the timer starts the moment you open your mouth. If you spend three minutes introducing a 30-second poem, we won't hear the poem.
It's completely acceptable to enter a slam and read from a piece of paper or a screen – you don't have to have learned your work off by heart, although a lot of people prefer to. If you'd like to have a little practice with the mic before our slams, ask one of the PPP team and we'll make this happen for you. And now, the important bit: don't be disheartened if you get knocked out. We've seen amazing poets fall at the first hurdle, and slams are notoriously random. Even if you only perform one poem you're still part of the show, and still part of an event our audiences love. Take pride in that. Enjoy yourself. This is absolutely crucial.
Above all, look at it as another gig and a chance to get your work out there. You're going to showcase what you do for three minutes… six minutes if you're lucky…or nine minutes if you're very lucky.
Finally… if you want to know about a PPP slam then signing up to our newsletter is the best option. We send out an email once or twice a month telling you what's going on in the world of PPP. This will include a call out for poets in any forthcoming slams. We get a lot of demand for places in our slams, so if you decide to sign up for one your name will go in the hat. After the deadline for entries, we'll draw out fifteen names to take part. The remaining poets create a reserve list, which comes into play if people drop out. Reserves often end up taking part in a slam. Sometimes they win.
That's it. We look forward to seeing you at a slam sometime soon!